The sieving and conveying system works continuously for 24 hours. First, the construction waste is screened through a vibrating feeder, and the stones, steel bars, and wood blocks larger than 300mm are screened out. The required size material is supplied to the vibrating screen for secondary screen through a belt conveyor with width 1200mm. The size bigger than 50mm are screened out, and then the finished products are transported to the barge via two belt conveyors with width 1400mm. The finished product is transported to Hong Kong Airport via barge.
The screening and conveying system handles the material is construction waste, and some construction waster has a large water content and a large mud content. Therefore, each link of the system, especially vibrating feeder, vibrating screen, conveyor receiving hopper, slip tubes, wear-resistant linings, etc, should not only meet the requirements for smooth conveying of materials during operation, but also meet the requirements for impact standard for all components, and also meet materials with large water content and high mud content, which the conveyors can smoothly convey the bulk material to ensure normal blanking and smooth transportation, and no sticking, blocking and accumulation.
The whole system must be equipped with complete safety protection devices and necessary safety protection facilities to ensure the safe operation of the equipment. The working status of the safety protection device of the screening and conveying equipment of each line can be realized by the centralized control station system on the site, and can also be manually operated at one side of the machine.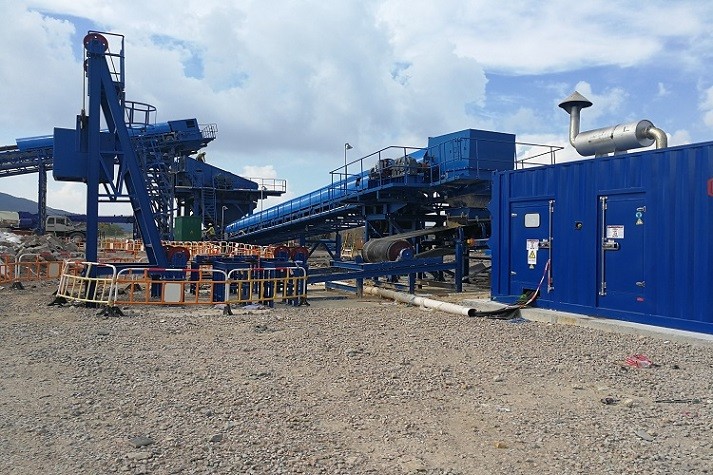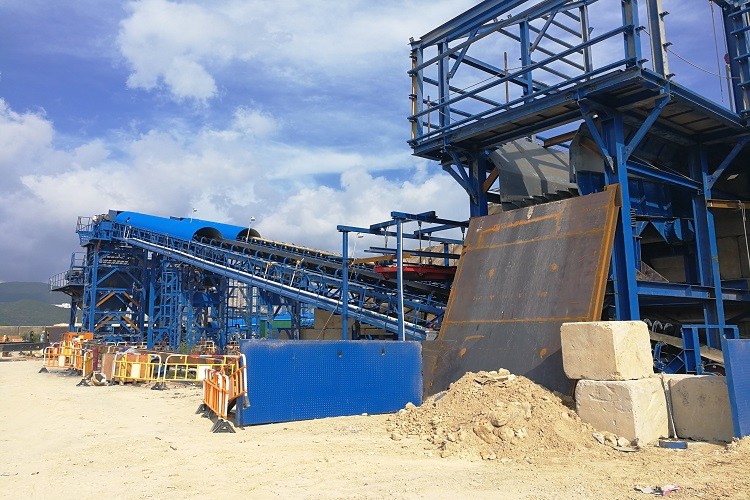 1. Multi and high standards: This project implements multiple national and regional standards and specifications.
2. Strict environmental protection requirements: The conveying system of the project needs to be designed with dust collection , recovery system and dust-proof system design.
3. Strict requirements for safety protection: In addition to the protection of rotating parts and pinch points conventionally required by belt conveyors, typhoon-proof design is required.
4. Strict safety protection requirements: The conveyor system needs to be equipped with deviation detector, belt slip detector, material flow detector, chute jam detector, anti-tear protection , rope switch, limit switch, position indicator switch ,and the electrical design needs lightning protection & ground connecting, etc.
5. Third-party design review mechanism: including the calculation of embedded parts calculation, belt conveyor design calculation manual, control, communication and other drawings;
6. High requirement for less vibration,less noise, anti-corrosion, waterproof, anti-salt etc;
7. Steel structure flaw detection: The customer entrusts a third party to conduct steel structure flaw detection, and the quality of all inspection welds must meet the requirements stipulated by UK standards.
8. Conveying and metering function: Instantaneous flow and cumulative weight metering function and weight calibration device required;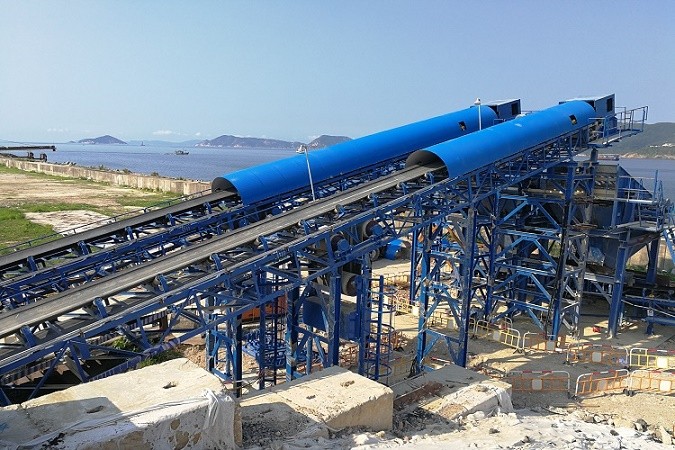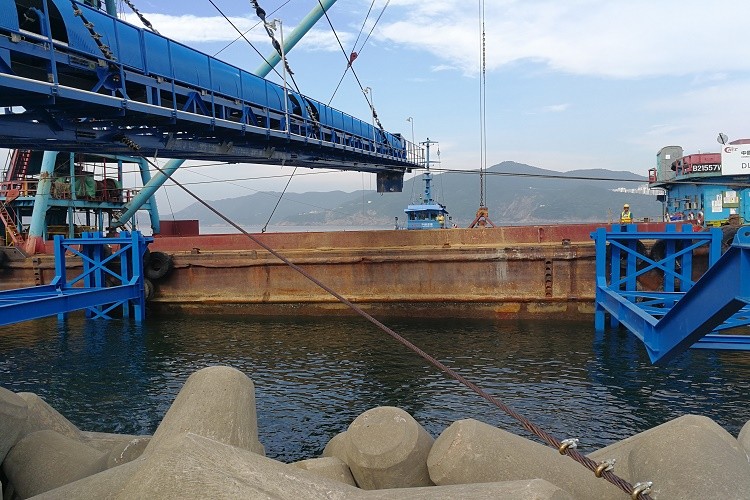 Specifications for Belt Conveyors
Item No.

Conveyor Item

1

BC-1

51

55

3

2

BC-2

45.5

55

3

3

BC-3

39.5

55

3

4

BC-4

62.5

90

3
Specifications for Vibrating Feeder and Sccreen
No.

Item

Qtty for each Line (Sets)

1

Vibrating Feeder

6000x2400

---------

2

45

6

2

Vibrating Screen

-------

7000x3000

2

2*45

6
Project Location: Tseung Kwan O, Hong Kong
Construction method: SKE responsible for design, procurement of materials and supporting outsourced parts, inspection, manufacturing, assembly, testing, transportation, system installation and commissioning.

Construction period requirements: The commissioning and delivery of the first line was completed in March 2018;Commissioning and delivery of the second and third lines were completed in August 2018;
Implementation Standards and Specifications: China Standards, British Standards and Hong Kong Standards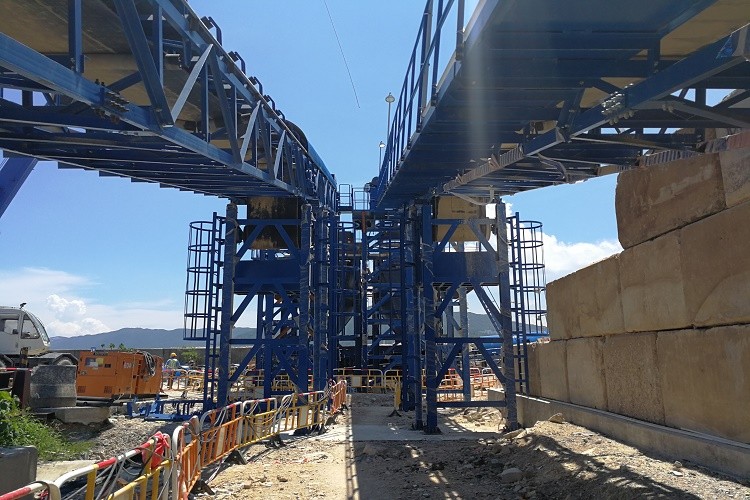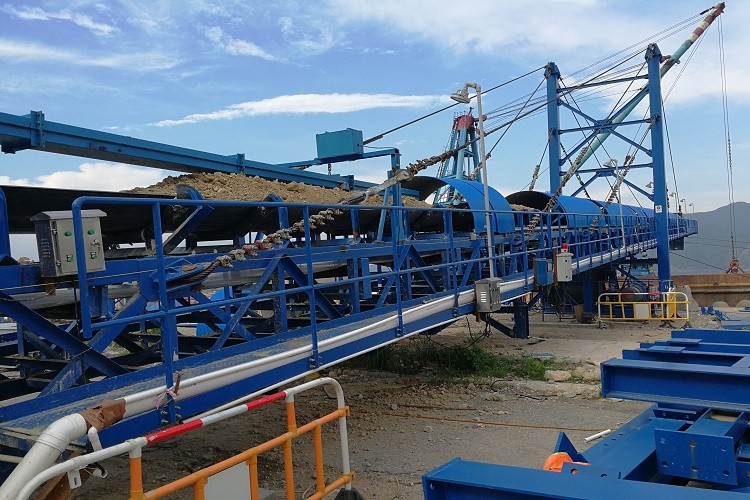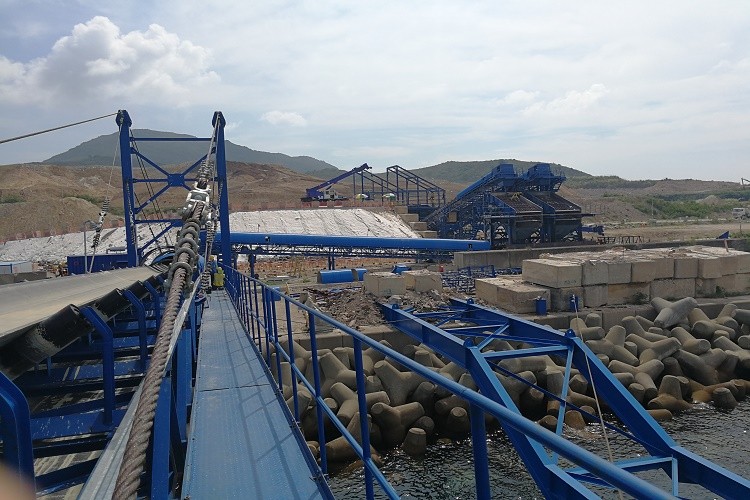 Engineering and scope of supply:
 Design, manufacture, transportation, installation and commissioning of belt conveyors as well as steel structures and related technical services.

 Design, manufacture, transportation, installation and commissioning of vibration feeders, unloading hoppers, unloading sheds and steel structures, and related technical services.
 Design, manufacture, transportation, installation and commissioning of vibrating screen and steel structure and related technical services.
 Manufacturing, transportation, installation and commissioning of steel structure berths and related technical services
 Design, manufacture, transportation, installation and commissioning of each system and related technical services.
 All the equipment including the selection of various components, the selection and arrangement of drive devices etc are designed by seller ccording to the requirements of the buyer,.
 All steel structures (components) supply and the protection and paint supply and painting;
 The basic embedded parts of all equipment and facilities'design and force calculation,not limited to embedded parts.
 Relevant services during the approval process, including calculation manuel and drawings submitted by ICE, the owner and the consultant during the design review process;
Supporting facilities of the system: vibrator, iron remover, metering device, vulcanization device, cleaner, electric control element and electric control system, wind protection chain, wind protection rod and other safety protection devices;
 Design and supply of connectors between superstructure and foundation.
Please send your message to us